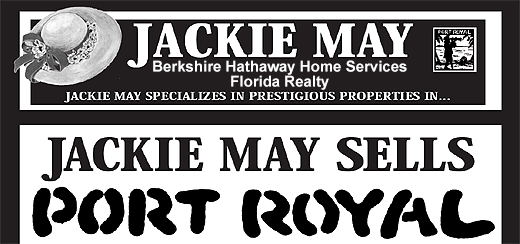 Testimonials
"This Year we bought a new home in Naples. We were driving through Port Royal and placed a call to the listing agent to inquire about a home we liked. she answered immediately. This is Jackie May. She persisted with showing us homes, educating us about comparables, entertained us, and didn't stop until we had identified the home we really wanted at a price we liked..

With any other realtor, we probably would have stayed in our condo and regretted never finding the perfect house in Port Royal.
After we have purchased the house, Jackie didn't stop serving us. She really made an effort to make our move pleasant, helping us in every way, above and beyond duty. She seems to get joy out of making people happy and treats her customers like friends they become.
Professionally, she is efficient, thorough, and always available. Nothing is ever a problem. Her attention to advertising her properties is excellent and her knowledge of the market, especially Port Royal, is amazing.
We feel very fortunate that we found her and would recommend her to anyone."
- Mr. and Mrs. William R. Martin
1950 Galleon Drive
Naples, Florida, 34102